Fox Motors is proud to sponsor the inaugural season of the
"Prep Athlete of the Week" 
A program that recognizes West Michigan High School Athletes who excel in sports, academics and community citizenship. The Fox Motors Prep Athlete of the Week program - in partnership with iHeart Media's ESPN 96.1FM and WOOD Radio 1300 AM/106.9 FM, along with PrepsMI - will highlight well-rounded and high-achieving High School Athletes each week. At the end of the school year, all weekly winners will be put into a random drawing and two High School Athletes (one boy and one girl) will each be awarded a $2,500 scholarship towards college from Fox Motors.

 Do you know an outstanding student athlete - nominate them today!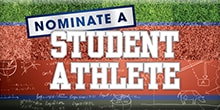 "High School athletics are not only super exciting, they are an integral part of what makes our close-knit communities here in West Michigan special. Fox Motors is thrilled to acknowledge local high school athletes who are leaders on their teams, in their classrooms and their community. We believe they will be among the future leaders who ensure our vibrant communities continue to offer the wonderful lifestyle we all enjoy so much. Their dedication to leadership and service will take them far in life, and exemplifies the standards
Fox Motors strives to meet every day."
- Jerry Moore, Division Director at 
Fox Motors.